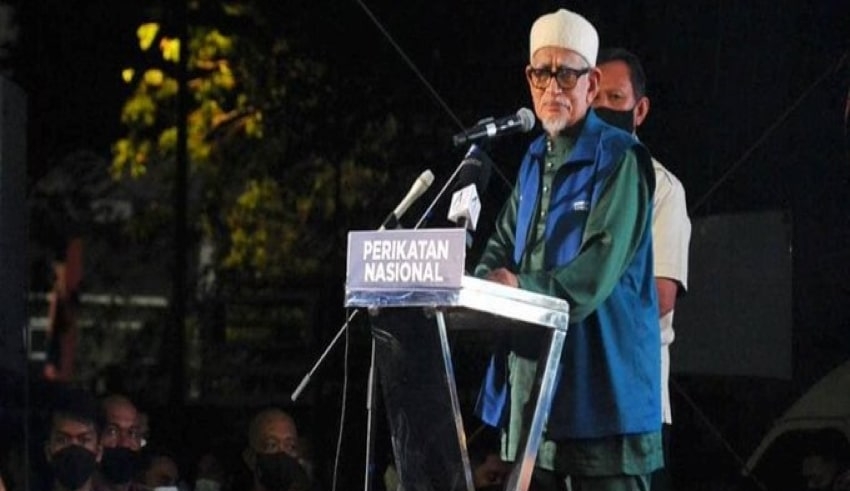 Malaysia – According to PAS president Tan Sri Abdul Hadi Awang, DAP founded the youth-focused Malaysian United Democratic Alliance (Muda) to "bait" Malay youths.
According to a report, Abdul Hadi also claimed that DAP formed Parti Amanah Negara, one of the Pakatan Harapan (PH) coalition's four component parties. PKR and Upko are the other two components.
"Amanah was invented by DAP. I'm aware that they enlisted the help of PAS members to build Amanah.
"Now Muda is in the same boat. It's a ruse to entice Malay youths. Don't fall for the trap," he told 2,000 supporters at the Perikatan Nasional's election equipment launch in Kota Tinggi, Johor, yesterday night, ahead of the state election next month, as stated by a report.
Amanah was founded in 2015 by a group of activists who split from PAS after a prior feud between the party's moderate and conservative parts. Amanah was founded by the moderates.
Related Posts
Muda is a multiracial political party headed by Muar MP Syed Saddiq Abdul Rahman, who formerly served in the Parti Pribumi Bersatu Malaysia (PPBM).
Muda has said that it has avoided seat conflicts with DAP and Amanah in the Johor state elections, which will be conducted on March 12, and that it hopes to speak with PKR to avoid running in the same state seats in Johor.
A report also said that Abdul Hadi remarked yesterday night that PAS refused to collaborate with PH because it could not accept DAP, PKR, or Amanah.
Abdul Hadi, according to the news site, has continued to characterize DAP as anti-Malay, anti-Islam, and anti-monarchy.
The DAP, a multiracial party, has previously attempted to refute such charges.
PAS could tolerate becoming a member of Perikatan Nasional, says Abdul Hadi, since Bersatu was no longer a part of Pakatan Harapan and PN component party Gerakan was "not extreme."
It was also reported that Abdul Hadi said that the PH alliance was unable to fulfill its electoral pledges, and that the PN was formed without a manifesto or commitments, and that it just did what it pleased.
Additionally, the reports said that Abdul Hadi stated the PN administration was "blamed" for the Covid-19 outbreak and Malaysia's catastrophic floods, but that these were "acts of God" meant to "test our wisdom," and that PN was able to offer help to the population.