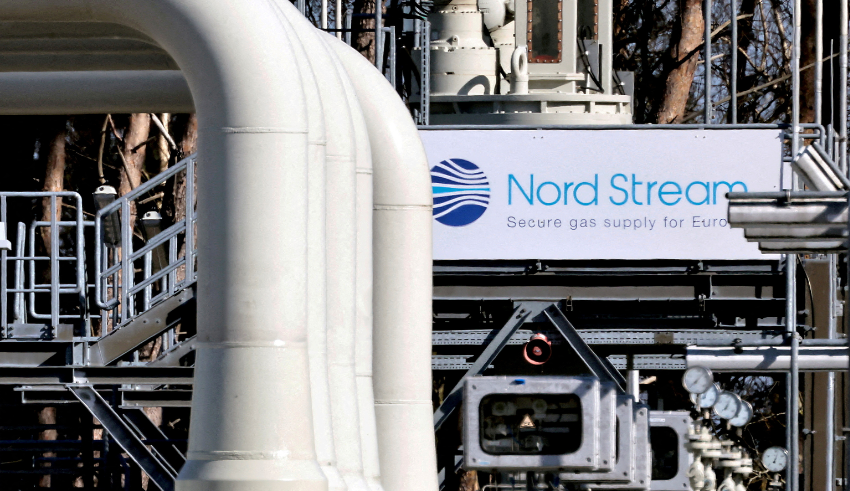 A new escalation of an energy standoff between Moscow and the European Union took place on Wednesday (July 27th). This will make it more difficult and expensive for the European Union to fill up storage ahead of the winter heating season. Russia sent less gas to Europe on Wednesday, July 27th.
The reduction in supply, which was announced earlier this week by Gazprom, has resulted in the capacity of the Nord Stream 1 pipeline, which is the primary delivery route for Russian gas to Europe, being lowered to just one-fifth of its total capacity.
After reaching compromise arrangements to limit cutbacks for some nations, EU governments on Tuesday agreed to a reduced emergency plan to curb gas usage in the hope that lower consumption will ease the impact in the event that Moscow shuts supply entirely.
The plan highlights concerns that countries will not be able to meet goals to refill storage and keep their citizens warm during the winter months and that Europe's fragile economic growth may take another hit if gas has to be rationed. In addition, the plan highlights fears that countries will be unable to meet goals to replenish storage and keep their citizens warm during the winter months.
Analysts from the Royal Bank of Canada stated that the strategy has the potential to assist Europe in surviving the winter if gas supplies from Russia are between 20 and 50 percent of their capacity; nonetheless, they cautioned against "complacency in the market European politicians have now solved the issue of Russian gas dependence."
Brussels has accused Russia of using energy as a weapon to blackmail the bloc and to retaliate for Western sanctions over its invasion of Ukraine. Moscow has blamed various technical issues for the supply cuts; however, Moscow has been accused by Brussels of using energy as a weapon to blackmail various technical issues.
Dmitry Peskov, a spokesperson for the Kremlin, stated that Gazprom was providing Europe with the maximum amount of gas possible and added that the company was unable to export more gas due to sanctions-related technical challenges with its equipment.
Wednesday morning at 0900-1100 GMT, physical flows via Nord Stream 1 dropped to 14.4 million kilowatt hours (kWh/h), down from roughly 28 million kWh/h the day before, when they were at only 40% of normal capacity. The pipeline was down for maintenance for ten days, and this decrease happened in less than a week.
Related Posts
Many European lawmakers have warned that if Russia entirely cuts off gas flows this winter, Germany will be thrown into recession, and consumer and industrial costs will skyrocket even further.
The European benchmark price of Dutch wholesale gas for August increased by 9 percent on Wednesday, reaching 205 euros per megawatt hour. This is a rise of over 412 percent annually.
Germany can still prevent a gas shortfall that would require rationing, according to Klaus Mueller, head of the country's network regulator.
As of mid-June, supply restrictions have been particularly harsh for Germany, Europe's largest economy and the largest importer of Russian gas, leading to a 15 billion euro (US$15.21 billion) governmental bailout of its gas importer Uniper.
Uniper and Eni, an Italian energy company, reported receiving less gas from Gazprom than on previous days. To prevent gas rationing, Mueller issued a renewed call to action to homes and businesses.
"The crucial thing is to save gas," Mueller said, adding, "I would like to hear fewer complaints but reports (from industries saying) we as a sector are contributing to this," shared this information with Germany's public radio and television network, Deutschlandfunk.
However, German industry groups have cautioned that enterprises may be forced to reduce output in order to obtain larger savings, citing the sluggish permission for converting from natural gas to other, more polluting fuels.
Mercedes-Benz CEO Ola Kaellenius has stated that the company is capable of reducing its gas usage by as much as 50 percent within a year through a combination of efficiency measures, greater power consumption, lower temperatures in production facilities, and a conversion to oil.
Phase 2 of Germany's three-stage emergency gas plan is presently in effect, and the last phase will begin whenever rationing becomes unavoidable.
"If you asked me whether it (a gas shortage) is imminent, then I would say that if flows remain at 20 percent and if we can still add to storage facilities in the coming days and weeks, then we do not yet have a physical gas shortage, which would be the prerequisite for Phase 3," Mueller continued.