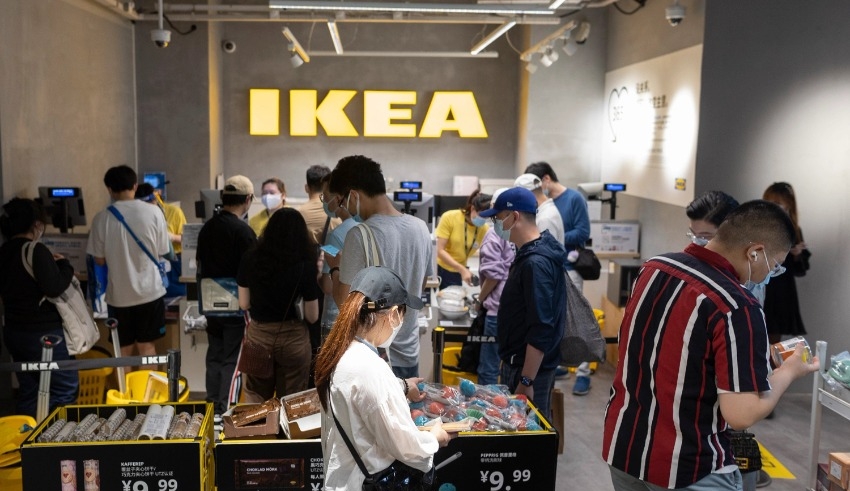 When police learned that a customer had come into close contact with a COVID-19 case, they attempted to lock down an IKEA outlet in Shanghai on Saturday (August 13), which led to tumultuous situations within the store. The business was closed for several hours.
Customers can be seen in videos that are circulating on Chinese social media rushing past security officers and sprinting out of the store in a panic as an announcement blares over the store's sound system announcing that the mall is being locked down due to COVID-19 contact tracking.
The doors were seen being closed by security personnel in an effort to keep people from exiting, but despite their efforts, a large crowd managed to push through and exit the building.
Reuters claimed that IKEA customer care informed them on Sunday that the mall was closed because to COVID-19 limits. The news agency also stated that the retailer did not immediately react to a request for additional comment.
Related Posts
According to Bloomberg, health officials in Shanghai stated that they implemented a "temporary control measure" at the business after they discovered that a close contact of a six-year-old child who was asymptomatic had visited. This information led to the health officials' decision to close the store.
They did not provide any information regarding the time that the close contact was in the store.
According to a report by Bloomberg, which quoted Mr. Zhao Dandan, deputy director of the Shanghai Health Commission, who gave a briefing on Sunday, all individuals present at IKEA and in other affected areas will be required to remain in quarantine for two days, followed by five days of health surveillance.
Shanghai made the announcement on Sunday that on September 1, all schools, including kindergartens, primary schools, and middle schools, will reopen after being closed for many months due to the COVID-19 outbreak.
According to the Shanghai Municipal Education Commission, the city is going to mandate that all students and teachers get nucleic acid testing for the coronavirus every day before they are allowed to leave campus.
According to a statement released by the commission, it was also requested that kids and teachers participate in a "self-health management" program that would last for 14 days within the city before the schools were reopened.
Midway through March, all of Shanghai's schools were closed in preparation for the city's two-month lockdown, which was implemented to tackle the city's worst COVID-19 outbreak in April and May.
Because of this, some high school and middle school kids were able to go back to their regular classes in June, while the majority of the other pupils continued to do home study for the rest of the semester.