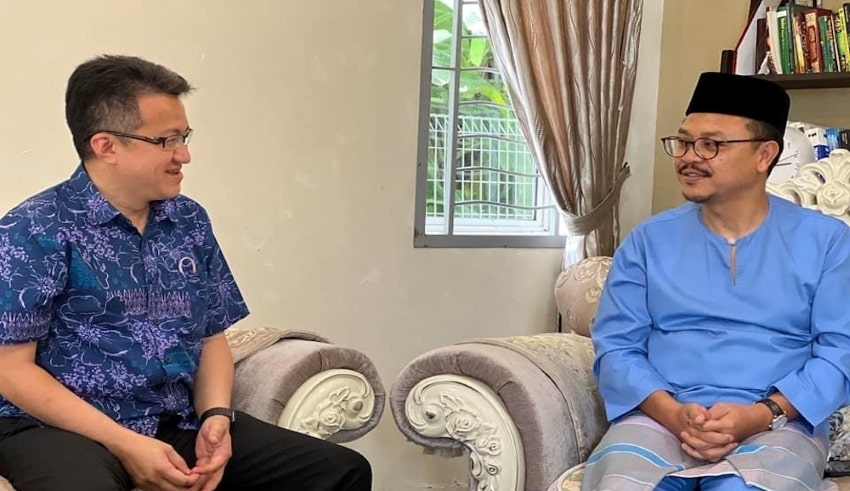 Malaysia – Every year on Hari Raya Aidilfitri, Johor Opposition Leader Liew Chin Tong remembers his eight-year friendship with lawyer and activist Datuk Khairul Anwar Rahmat.
Liew stated his special bond with Khairul Anwar began when he was denied entry to a Ramadan market in Kluang in 2014, which sparked the controversial "surat mana surat" incident that pitted Umno and DAP against one another.
He said that Khairul Anwar, the Kluang Umno division Youth leader and the party's state deputy Youth chairman at the time, was vital in defusing the crisis and bridging the gap between the two political parties.
Liew recently wrote on Facebook that he has visited Khairul Anwar every Hari Raya Aidilfitri since they came to know each other, except during the last two (Covid-19) pandemic years.
During a visit to Khairul Anwar's family home at Kampung Melayu in Kluang, the Perling assemblyman was joined by Johor DAP vice-chairman Sheikh Umar Bagharib Ali, Kluang MP Wong Shu Qi, and Mengkibol assemblyman Chew Chong Sin.
Related Posts
Khairul Anwar, an activist, is presently in law practice. Since then, he has quit both Umno and politics.
He is also the head of the Malaysian Volunteer Lawyers Association (SukaGuam) and the organizer of the #Nothing2Hide event in 2015, which addressed the 1Malaysia Development Berhad (1MDB) problem.
Following the highly documented incident in 2014, Liew stated Khairul Anwar called him to advise that they should respect one another with grace, humility, and politeness, despite their political disagreements.
"With the permission of Khairy Jamaluddin, the then-Umno Youth head, he performed the unthinkable.
"Khairul encouraged me to accompany him to the Ramadan market to give bubur lambuk," he recalled, adding that the "silaturrahim" (relationship building) stroll astonished many at the time.
According to Liew, Johor was an Umno-Barisan Nasional (BN) stronghold in 2014, and opposition parties were seen as the adversary.
"Khairul Anwar was ahead of his time in his brave gesture and confidence that all members of Bangsa Johor may coexist despite their political differences.
"It's great to see him again with my Johor DAP colleagues." "Malaysia, especially Johor, needs more progressive leaders like Khairul Anwar to reach out to everyone, develop bridges, and define a shared agenda for everyone," Liew added