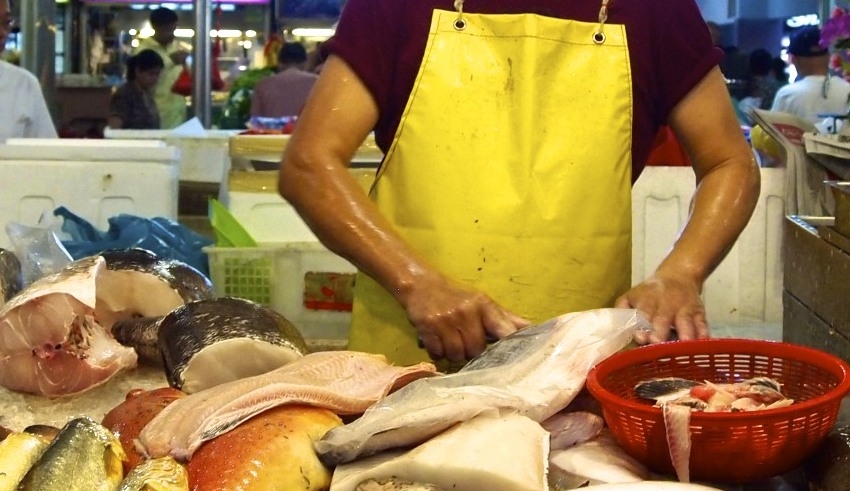 Rosidi Yapa began fishing 20 years ago. He still appreciates his profession, "but there are many differences between then and now."
In the past, he could fish in the waters off the coast of Johor and catch more than 20 tons of fish in three days, but now it takes "at least five to six days."
Rosidi, the skipper of a vessel owned by seafood distributor GM Seafood, stated, "There are fewer fish now. We must travel to Kuantan, Terengganu, and other cities to find fish because there are so few in the area."
Obtaining the same amount of fish requires increased work and costs. This is one reason why fish prices have increased in both Malaysia and Singapore, which imports 25 percent of its seafood from its northern neighbor.
According to reports, fish prices in Malaysia have increased by 10 to 30 percent. This year, the growth in Singapore has been at least 20%.
In September, Spanish mackerel, popularly known as batang, cost S$20 to S$25 per kilogram, up from S$15 to S$20 per kilogram two months earlier, according to Tekka Market fishmonger Lee Yit Huat.
More days at sea results in increased diesel consumption by fishing vessels. And the price of diesel has increased to RM4.15 (S$1.24) per litre from approximately RM3.70 previously, said to Gary Ko, director of GM Seafood.
Twelve percent more than a year ago, he spends an average of S$320,000 every week on diesel for his fleet of over 40 vessels. And because fishermen are paid on a daily basis, extra days at sea result in increased labor expenses.
Ko's production expenses have climbed by 25 to 30 percent overall, he stated on the show Talking Point. His company has had to increase the price of its seafood by 15% due to a 30% decline in revenue.
Keep Reading
Last year, Singapore consumed 133,400 tonnes of seafood and generated 8% of this quantity. Malaysia was the largest supplier of seafood to Singapore in 2012, followed by Indonesia and Vietnam, according to data compiled by the Singapore Food Agency.
The majority of fish in Malaysia is caught, while less than a quarter is farmed. Unpredictable and severe weather conditions have prevented fishermen from venturing out to sea, hence aggravating the supply shortage.
Meteorologist Toh Ying Ying of the country's meteorological agency stated that "more and more thunderstorms" have been happening as a result of both natural climatic variability and man-made global warming.
"For example… during the south-west monsoon, we will typically see drier weather. This year, though, we are not observing this pattern. The weather is slightly wetter than it was last year," she remarked.
Since 1981, Malaysia has had an annual temperature increase of 0.02 degrees Celsius, she added. This produces more moisture, which in turn promotes "more extreme" thunderstorms and heavy rain across the nation.
Aileen Tan, head of the Centre for Marine and Coastal Studies at University Sains Malaysia, earlier told CNA that the rising temperatures of surface waters slowed the carbon exchange between deep and surface waters.
"In regions with warmer waters, the upper layers are more saturated with CO2 and cannot absorb more, while the bottom (deeper) layers have less oxygen," the professor explained.
More carbon dioxide in the water results in greater acidification. Warmer and more acidic seas will have detrimental effects on marine life. Tan noted that warmer temperatures promote the growth of marine bacteria and fungi, which can be harmful to certain fish.
According to him, feed accounts for 70 percent of total costs. In addition, feed costs have increased over the past year as corn and wheat prices have increased.
Daily feed requirements for a pond at DTS's fish farm in Negeri Sembilan are approximately 400 kilograms at a cost of approximately US$600 (S$830). "Therefore, one hundred ponds is a great deal," stated Tea, whose company exports to Singapore.
DTS also employs American-imported probiotics to decompose sludge and garbage in its ponds. In addition, the depreciation of the ringgit versus the U.S. dollar during the previous two years, along with increasing raw material costs, results in a 20 percent increase in the price of probiotics.