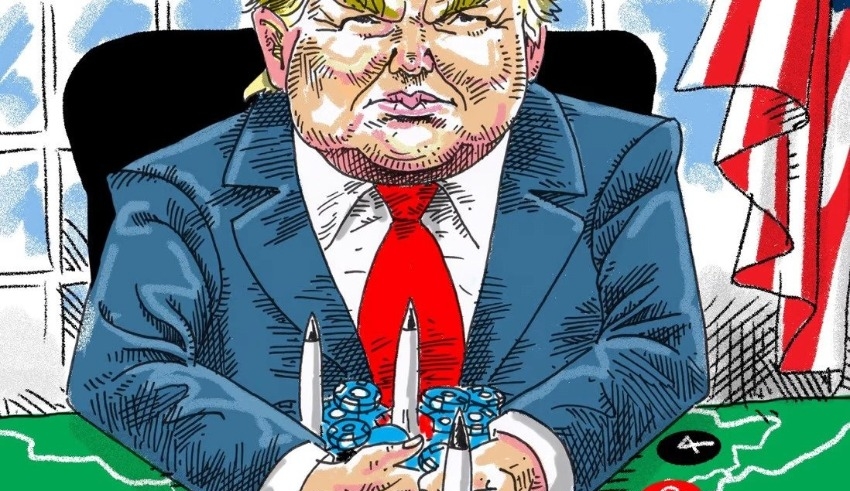 (c) South China Morning Post
Monday's FBI search at Donald Trump's Florida home leads to the former president's prosecution, as supporters fear and detractors hope.
The United States has been a long-time laggard in enforcing the law against former leaders. Former presidents and prime ministers have been tried and frequently convicted in many of the world's major democracies, mostly for crimes they committed, covered up, or both, while in power in countries like Brazil, France, South Africa, Israel, the Philippines, and South Korea.
Jacques Chirac and Nicolas Sarkozy of France, Luiz Inacio Lula da Silva, Dilma Rousseff and Michel Temer of Brazil, Jacob Zuma of South Africa, Park Geun-Hye of South Korea and Silvio Berlusconi of Italy are among those who have been brought to justice.
Nixon was pardoned by his successor, Gerald Ford, before ever going to trial for Watergate, the closest the US president has come to making the list.
Those who want to hide the wrongdoing of subsequent presidents, including Bill Clinton, George W. Bush, and, of course, Donald Trump, have invoked Ford's argument that prosecuting Nixon would "needlessly divert" the nation's attention from meeting its challenges.
And this isn't just a partisan issue. Americans as a whole are leery of prosecuting former presidents.
In a recent PBS NewsHour/NPR/Marist poll, barely half of all respondents said Trump should face criminal charges – and only 28 per cent felt he would – for his role in the Jan 6, 2021, insurrection at the US Capitol.
Related Posts
The arguments for treating leaders differently from regular citizens turn up concerns of perception and ethics. The prosecution of a former president, especially if it takes place during the term of a successor from the other side of the aisle, is not only an ugly prospect, but will undoubtedly be perceived by the ex-leader's supporters as politically motivated.
That is absolutely the case with Trump: The narrative in MAGA-land is that President Joe Biden is persecuting their man to prevent him from running for president in 2024.
Then there's the threat of retaliation: A cycle of tit-for-tat prosecutions with every change of guard in the White House.
This would surely pull down the tenor of national politics, eroding public trust in the highest office in the land — and by implication, in all offices. In other words, democracy itself would be diminished.
And lastly, there is the apocalyptic argument, which is receiving the full klaxon treatment from Trump's supporters: Pursuing a former president risks breaking up a civil war. Right-wing social media platforms are already vibrating with calls for a violent response to the FBI search.
In contradiction to all of this, the case for the prosecution is as follows: Putting a former president on trial sends the message that no one is beyond the laws of the nation, including the former president. And rather than weakening democracy, the public display of responsibility actually helps to enhance the democratic system's underlying framework.
The lessons learned from other countries' successes and failures are generally positive. Three South Korean presidents have been convicted since that country reached full democracy in 1987, and we can debate whether or not this has had a cautionary effect on later officeholders, but the apocalyptic scenarios depicted in the United States haven't come to pass in other countries.
In hardly a single one of the democracies that I described, the political culture has degenerated into retaliatory prosecutions. However, it would be difficult to draw a direct line from the conviction of former leaders to a general disgust with politics. The public's opinion of democratic institutions differs from country to country and circumstance to occasion, although it is possible to do so.
When all is said and done, there is no shortage of dissatisfaction in nations in which leaders have not been brought before a court of law. And without a doubt, I did not include any examples of nations that had descended into civil war in my previous paragraph.
There is one crucial exception to take into account with all of this. In almost every instance in which a former leader of a democracy has been brought to court, the accusations that have been leveled against them have centered on corruption, with the majority of these cases involving straightforward graft.
They may have brought shame upon themselves and their offices, but not a single one of them has been charged with conspiring to overthrow the democratic system by inciting a rebellion.
However, the filing of such accusations against Trump would bolster the case for the United States to follow the lead of those other democracies.
In this particular respect, the United States ought not to be special.