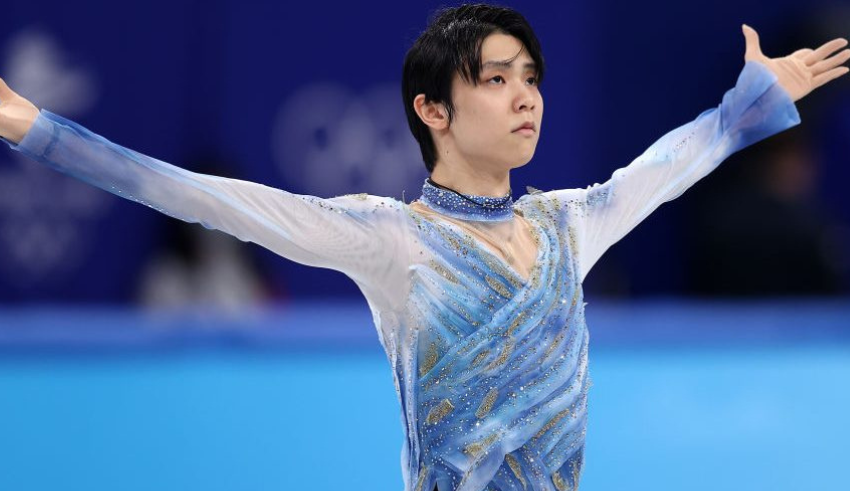 Yuzuru Hanyu, a two-time Winter Olympic champion, announced on Tuesday that he would quit competitive figure skating and become pro.
At a news conference held in a Tokyo hotel, Hanyu, 27, declared with a smile, "I will continue my career as a professional athlete." At the press conference headlined "Decision announcement," Hanyu was dressed in a suit.
In his opening statements to the media, he declared, "There will be no more comparing myself against other skaters as a competitor,"
"I will continue to challenge myself to land 4½-rotation jumps, with a strong determination to do them successfully for everyone. I would be happy if you support me as I go on with my endeavors," he stated.
The Beijing Winter Games took place in February, and Hanyu's objective was to capture Olympic gold for the third time in a row. However, he ended up finishing in fourth place.
After the leap had been formally recognized for the first time by the International Skating Union, he even accepted the challenge of attempting to complete a quadruple Axel, hoping to become the first to land one in competition. He did this in the hopes of becoming the first person to do so.
During a news conference that he held after his performance at the Games, he did not make it abundantly apparent that he would continue to participate in competitive skating.
In addition to that, in March, when the World Figure Skating Championships were taking place, he hurt himself and had to pull out.
Related Posts
Sendai is the hometown of Hanyu. In 2010, at the age of 15, he became the youngest ever winner of the World Junior Championships. His practice at the rink in Sendai was interrupted by the earthquake that struck Japan in 2011. The four of them had to spend some time in a shelter because his family's house was also damaged.
Hanyu had a moment of self-reflection about his skating career. He traveled around the country to participate in ice exhibitions, where he practiced at each location. At the world championships in March 2012, he skated well enough to secure third place.
After relocating to Canada, he competed in the 2014 Winter Olympics in Sochi, where he won Japan's first-ever men's figure skating gold medal.
He went on to win his first world championship title a short time later in Saitama, Japan. He recovered from a right ankle injury in time to win his second gold medal of the 2018 Winter Olympics in Pyeongchang, making him the first man in 66 years to win consecutive Olympic titles in men's figure skating.
During a four-year span from 2012 to 2015, Hanyu won the Japan national figure skating championships six times.
For the past four years, he has made annual visits to earthquake-ravaged areas and donated to the relief efforts of those affected by the earthquake in 2011. This year, at the age of 23, Hanyu became the youngest winner of the People's Award Award, an honor bestowed upon persons who have made significant contributions to society for his two straight Winter Olympic gold medals.