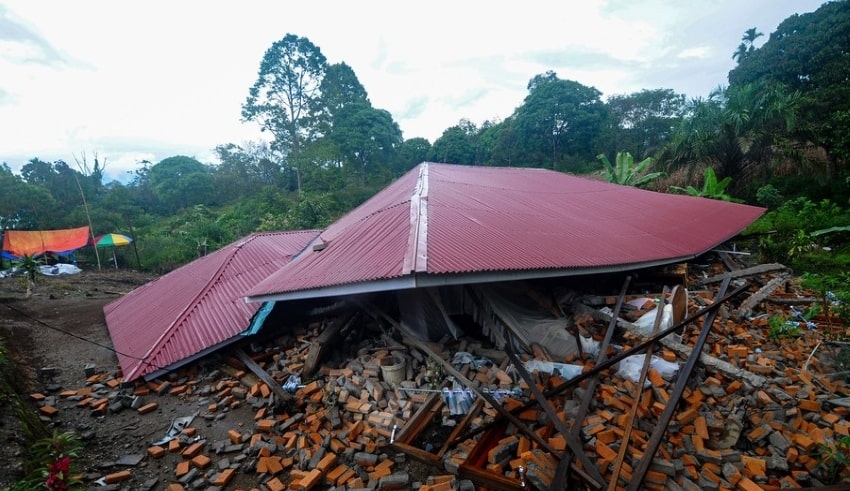 Indonesia – A 6.2-magnitude earthquake struck Indonesia's Sumatra island on Feb 25, killing seven people and injuring hundreds more, with locals rushing loved ones to safety as buildings fell around them.
The quake struck only minutes after a smaller but more powerful earthquake, as scared locals began fleeing their homes.
"After the first quake, we all escaped our house," Yudi Prama Agustino, 36, said in a report. "I have a one-year-old infant, so I pushed the stroller out the door in a hurry."
According to the US Geological Survey (USGS), the quake struck the island's north at a depth of 12 kilometers (7.5 miles), around 70 kilometers from the town of Bukittinggi in West Sumatra province.
Bukittinggi is 40 kilometers away from Agustino's hometown in the Agam area.
"When my children's toys toppled over, I realized there had been an earthquake. I was worried because my in-laws were also in the home, and they are pretty elderly and unwell," Agustino recalled of the initial earthquake, which the USGS measured at 5.0.
Related Posts
"Once we got outdoors, there was a considerably greater 6.2 earthquake, and everyone panicked," he said.
According to Abdul Muhari, a spokesperson for the National Disaster Mitigation Agency (BNPB), seven people died and 85 were wounded in West Pasaman and Pasaman, which are around 17 and 20 kilometers from the epicentre.
At least 5,000 people have been evacuated from the two areas.
At the height of the rainy season, the Indonesian meteorological office BMKG issued a warning to stay away from hills due to the risk of landslides.
The tremor was felt as far away as Malaysia and Singapore, in the neighboring provinces of Riau and North Sumatra. There has been no tsunami warning issued.
Images shared with AFP from Pasaman city, near the epicenter of the earthquake, showed partly fallen homes with bricks strewn over the ground and holes in the walls.
According to BNPB chief Suharyanto, who goes by one name like many Indonesians, the town mayor's mansion was also damaged, with smashed glass all over the floor.
Patients were taken out of a hospital in Padang, the provincial seat of West Sumatra, according to television video.
According to Alim Bazar, the chairman of Pasaman's disaster mitigation organization, several structures had fractures.
"The mayor called and ordered that every building's second and third floors be evacuated," he claimed.
Irpanda, a Pasaman resident, said he felt both the first and second earthquakes, according to Metro TV.
"At first, the tremor was just a few seconds long. "People were fleeing their houses, and surrounding buildings were wobbling," he added.
"But then another quake struck, and this one was very powerful. "More individuals have evacuated their homes," he added, adding that patients at a nearby hospital have also been relocated outdoors.