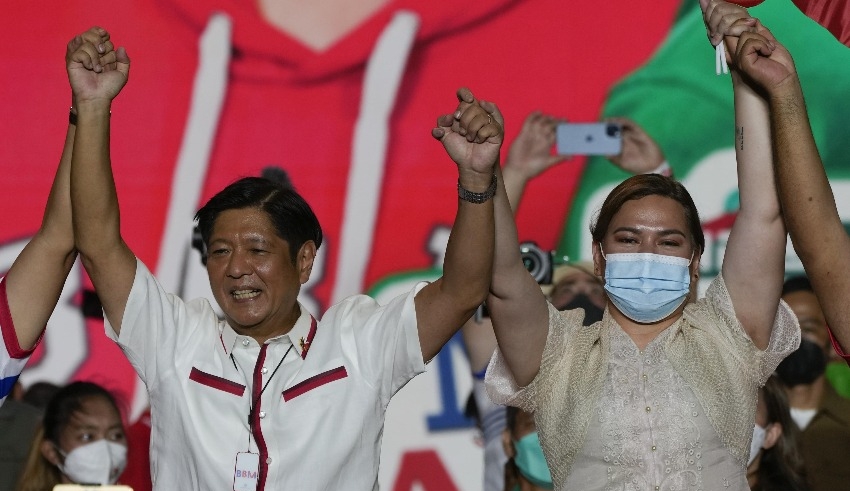 PHILIPPINES: It was a dramatic comeback for one of Asia's most renowned political dynasties after 36 years, when Ferdinand Marcos Jr. was sworn in as president of the Philippines on Thursday afternoon.
Ferdinand Marcos's son replaces Rodrigo Duterte, who garnered worldwide notoriety for his violent drug war and has vowed to kill suspected drug dealers when he leaves office.
The 64-year-old Marcos Jr., also known as "Bongbong," won the past month's elections by a landslide, achieving the greatest triumph since his father was deposed in 1986 by a popular insurrection.
Hundreds of dignitaries, including Chinese Vice President Wang Qishan and US Second Gentleman Douglas Emhoff, witnessed Marcos Jr. take the oath of office in a public ceremony at the National Museum in Manila.
"The greatest electoral mandate in the history of Philippine democracy" is what Marcos Jr promised the Filipino people in a speech that repeated his campaign rhetoric of togetherness.
As he was inaugurated in front of his family, he told them, "You will not be disappointed, so do not be scared."
As Marcos Jr. put it, "This is a historic time for us all." Voters have "rejected the politics of division by your vote."
In a spirited 30-minute speech, Marcos Jr also hailed his late father's reign, which many have described as a dark period of human rights abuses and corruption. His sister Imee, a senator, and mother Imelda, a former congressman, sat nearby.
From 1965 until his defeat and the exile of his family in a "people power" revolution, Ferdinand Marcos the elder reigned for two decades, nearly half of which was under martial law.
It became synonymous with cronyism, extravagance and billions of dollars of missing state riches during his reign, which saw thousands of his opponents imprisoned or assassinated. The Marcos family denies any wrongdoing.
Related Posts
For the inauguration, more than 15,000 police, troops, and coast guard members were stationed throughout the capital.
President Rodrigo Duterte met with Marcos Jr. at the Malacanang presidential palace before to the inauguration.
As usual, Duterte wore a mask and an unbuttoned shirt with his sleeves rolled up for his meeting with Marcos Jr.
Last week's Supreme Court ruling that Marcos Jr. should not be allowed to assume office was overturned by an appeals court.
It was under martial law that the elder Ferdinand Marcos controlled the Philippines from 1965 until 1986, when he was overthrown and his family fled into exile following a "people power" revolution.
As a result, the Marcos family name became synonymous with favoritism and excess, as well as the loss of billions of dollars from public coffers, throughout his administration. No evidence of embezzlement has been shown against the Marcos family.
More than a thousand people gathered nearby to demonstrate against Marcos, who they accuse of relying on social media to earn votes by discrediting stories of cruelty and decadence during his rule, as well as proposing alternate histories.
Some of his father's opponents were killed and injured in a blast blamed on communists in the Plaza Miranda, where they assembled with signs reading "Reject Marcos."
Recalling his father's administration as the golden moment of the Philippines, a former US colony, the former senator and congressman used the phrase "together, we shall rise again" in his campaign.
At a heroes' monument, those who had been persecuted under martial law were gathered to swear an oath of allegiance, vowing to protect themselves from tyranny and deceit.