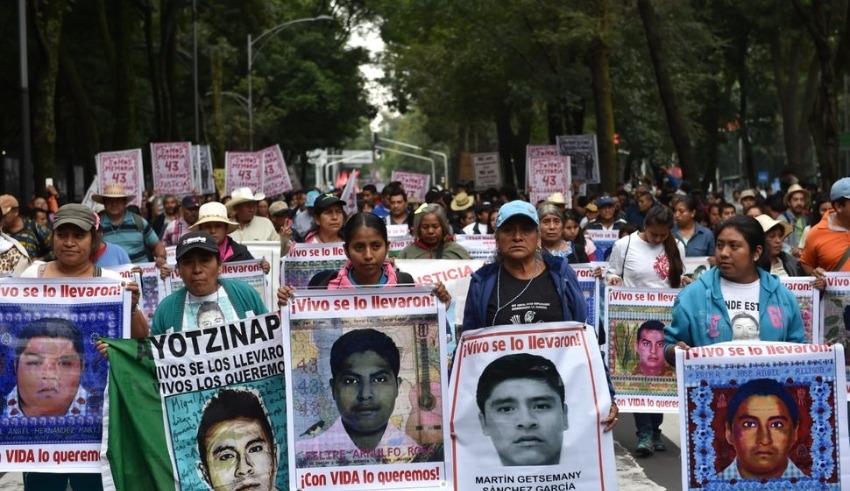 Last updated on October 25th, 2022 at 04:02 pm
On Friday, August 19, Mexican authorities made the first high-level arrest in the infamous disappearance of 43 students in 2014. They accused a former top prosecutor of crimes in one of Mexico's worst human rights abuses, which current officials have referred to as a state crime. The disappearance of these students occurred in 2014.
Former Attorney General Jesus Murillo was taken into custody at his home in Mexico City on suspicion of forced disappearance, torture, and obstruction of justice in connection with the kidnapping and disappearance of student-teachers in the state of Guerrero, located in the country's southwestern region.
According to the authorities, Murillo was transported to an office of the attorney general and would be transferred to a jail in Mexico City shortly.
According to the office of the attorney general, a judge issued 83 further arrest orders in relation to the case within hours of the initial arrest. These arrest orders were issued for troops, police, Guerrero officials, and gang members.
Murillo oversaw the investigation that was highly criticized into the disappearance of the students from the Ayotzinapa Rural Teachers' College on September 26, 2014, during his term as Attorney General from 2012 to 2015 under the administration of President Enrique Pena Nieto, who was in office at the time.
Only the bodies of three students were ever located and positively identified, and ever since then, doubts have continued to plague Mexico.
The official investigation was attacked by international specialists who stated that it was filled with errors and abuses, including the torturing of witnesses. When Andres Manuel Lopez Obrador was inaugurated as president in 2018, he made a commitment to investigate what had taken place.
Related Posts
Since 2020, the administration of Lopez Obrador has made numerous attempts to apprehend Tomas Zeron, a former high-ranking official, and even requested that Israel extradite him just a year ago.
According to reports from local media in the year 2020, Murillo responded positively when he was questioned about the government's decision to review the previous probe and indicated that he was willing to be questioned.
An image that was published by the local media indicated that Murillo was brought into custody while wearing black slacks and having his hands folded within the pockets of a gray blazer. Standing behind him was a law enforcement officer who had a gun slung over his chest.
Murillo is alleged to have participated "without resistance" according to the Attorney General's Office.
The arrest comes only one day after Mexico's top official in charge of human rights, Alejandro Encinas, described the disappearances as a "state crime" in which local, state, and federal authorities were all involved.
"What on earth took place? Encinas stated during a news conference that there was a forced disappearance of the youngsters that night by government authorities and criminal groups."
According to Encinas, the highest levels of Pena Nieto's administration were involved in the planning and execution of a cover-up. This cover-up included the manipulation of crime scenes and the concealment of connections between law enforcement and criminals. Encinas stated that the prosecution is working to file charges against 33 individuals but did not name any of them.
Murillo assumed control of the Ayotzinapa case in 2014 and referred to the conclusions reached by the government as "historical reality."
Also Read: 10 Courses HUMSS Students Can Pursue in College 2022
According to this account, a local drug gang killed the students after mistaking them for members of an opposing group, then burned their bodies in a garbage dump and dumped the ashes in a river after disposing of their bodies.
During the course of the investigation, a group of international experts found inconsistencies in the account, and the United Nations condemned arbitrary detentions as well as torture.
As frustration grew over the absence of answers, the phrase "historical truth" gradually came to be synonymous with the public's perception of corruption and impunity under Pena Nieto's administration.
Murillo, who had previously served as a federal legislator and the governor of the state of Hidalgo, resigned in 2015 in the face of mounting criticism over the manner in which he had handled the matter.
Vidulfo Rosales, the attorney who represents the parents of the Ayotzinapa kids, has pleaded with the government to conduct additional arrests.
Rosales stated on Mexican media that there is still a significant amount of work to be done before they can consider this case to have been solved.